Everything In Life Is About Attitude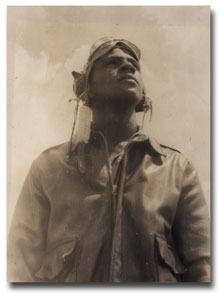 I, James H Harvey III, was born in Montclair, New Jersey on 13 July 1923 to James and Cornelia Harvey. We were a poor but proud family. This was during the time when the economy was depressed. However, my father always found a way to provide for his family.
On my first day of school, I was put in the third grade. I was only there a few days before they decided I should be in the first grade. My first six years of schooling was divided between Silver Lake, New Jersey and Montclair, New Jersey.
We moved to Wilkes-Barre, Pennsylvania in 1930 and then to Nuangola Station, Pennsylvania in 1936. Nuangola Station was a small mountain town in which we, my mother and father, my brother Charles who is nine years younger than I and sisters Dorothy and Cornelia who were born three years apart, were the only Afro-American family there. We had electricity, but no indoor plumbing. I went to a two-room school for the seventh and eighth grades. The High School was in Mountain Top, Pennsylvania, so I had to ride the school bus. During my four years, nine through twelve, I was the anchor man on the tumbling team and captain of the basketball team. In my senior year an Afro-American female entered the 12th grade, so we were the only Afro-Americans in the school. I was treated like everyone else. There was not any prejudice whatsoever in the high school. During my senior year, I was Class President and Valedictorian.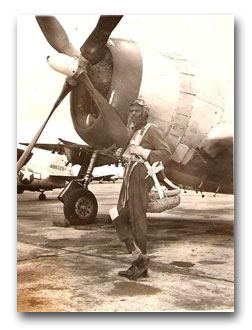 I have often been asked why I wanted to fly. I was at home one day and a flight of four P-40 aircraft flew over and I said, "I would like to do that one day", so I tried to enlist in the Army Air Corp and was told they were not taking enlistments at that time. I knew that was wrong, because the Military always needed more people. They didn't want me because of the color of my skin. I was drafted into the Army in April 1943. I boarded a train in Nanticoke, Pennsylvania bound for Fort Meade, Maryland. When I arrived in Washington, DC I was taken out of the passenger car I was riding in and transferred to the last car where Negroes had to ride. This was my introduction to prejudice and discrimination. Up until this time I thought I was just like everyone else. WRONG! When I arrived at Fort Meade, Maryland I was given a physical examination and written test. Based on my score on the written test, they assigned me to the Army Air Corp. Not for Pilot Training, but to the Army Air Corp Engineers. My mission would be to go into the jungles of the South Pacific Theater of Operation with my Bulldozer, Grader and Carry-all and doze an area out of the forest and build an airfield for American Pilots to land and take off to engage the enemy. I decided this was not for me, so I applied for Cadet Training again. This time I was accepted and reported to Boling Field for my written test and physical examination, which I passed with flying colors. There were ten of us taking the examination, nine Whites and myself, and only I and one White passed the examination to attend Pilot Training School.
I was then sent to Biloxi, Mississippi for thirty days of Basic Training. Upon completion, I was transferred to Tuskegee Army Air Field to start my Pilot Training. I was here for three months going through a classification program prior to entering Primary Training at Moton Field, which belonged to the Tuskegee Institute. After completion of Classification Training I was housed in Sage Hall at Tuskegee Institute. While living here, we had classes at the Institute in the afternoon and flew in the morning and vise-versa. Our classes at the Institute consisted of Math, English, Morse Code, Aircraft, Ship and Submarine identification (enemy and allied), Navigation and hands-on identification of lethal gasses used during World War One that may be used during World War II. After completion of my Primary Training at Moton Field, I was transferred back to Tuskegee Army Air Field for Basic training in the BT-13 and Advanced Training in the AT-6 aircraft.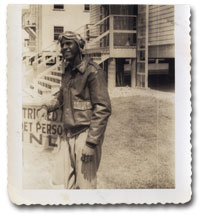 Many Officers in the Army, the majority of whom were from the South, believed in the stereotypes perpetuated by the Army War College Studies of the Negro produced in the previous decade and the War College Reports of 1936. The War College studies and reports were primarily unscientific surveys and interviews of White Officers who cammanded Negro Troops in World War One. According to the studies, Negro Soldiers were "Child Like", "Careless", "Shiftless", "Irresponsible", "Secretive", "Superstitious", "Unmoral and Untruthful" and more than likely to be guilty of "Moral turpitude". The Negro Soldier was also branded as "A Comic", "Emotionally Unstable", "Musically Inclined With Good Rhythm" and "If Fed, Loyal and Compliant". Since every White Commander had a copy of this report this is how he perceived us. Plus, he had a few unfounded ideas of his own. Keep what I just said in mind. During the early forties the "wash out or failure rate" for White Aviation Cadets going through Flight Training was running at 63%. The "wash-out or failure rate" for the first Cadet class at Tuskegee was 40%. They said, "There is something wrong with this equation", so they made sure the wash-out rate at Tuskegee was 70% or higher. We were washed out for anything, it did not have anything to do with our flying. Our Flight Training was different than the White Cadets. Everything we did had to be perfect. So when we graduated, we were better than our Instructors. Colonel Noel Parrish our Commander at Tuskegee Army Air Field would go to the White Flying School at Montgomery, Alabama and tell the Commander there that, "We wash out better pilots at Tuskegee than you graduate here at Montgomery", which was true. Colonel Parrish was a White Military man from Kentucky, but he was behind this program at Tuskegee 100%. This "Tuskegee Experiment" or "Tuskegee Experience" as it was called, was designed to fail. Yes, the whole program was designed to fail. We were out to prove them wrong. We were not just learning to fly for ourselves, we were out to prove that we, as a Race of People can do anything they can do, but only do it "Better".
When I was growing up, I didn't have toys or television. We had a radio and I would listen to the programs which forced me to use my imagination. I was artistic and did a lot of drawing. I was a happy child and a perfectionist. This being the case, it never entered my mind that I would fail a written examination or wash-out during my Flight Training as a Cadet. I always figured that I could do anything if given a chance. Attitude is the key in life. Keep a "Positive Attitude" and don't associate with people who have a "Negative Attitude".
I graduated from Flying School at Tuskegee Army Air Field as a Second Lieutenant on 16 October 1944 and the rest of my story is included on the Personal History page.
James H. Harvey, III
June, 2008
Denver, Colorado